When we started Drapes of Wrath almost a year and a half ago, we had no idea we'd still be going at this point. It's an awesome feeling of pride and success. And all throughout that time we've been constantly striving to improve our workmanship, come up with fresh designs, and really put 110% into our work. Recently we finally broke down and admitted that if at least a third of the time you spend sewing an apron is spent ripping stitches because the bobbin jumped the track, or tried to eat the fabric, something has to change.
We'd outgrown our sewing machine, not that it hadn't served us well. But it had become like the grumpy old cat that crosses the whole linoleum kitchen to hock a hairball on the carpet out of spite.
Enter the Singer 160 Limited Edition sewing machine.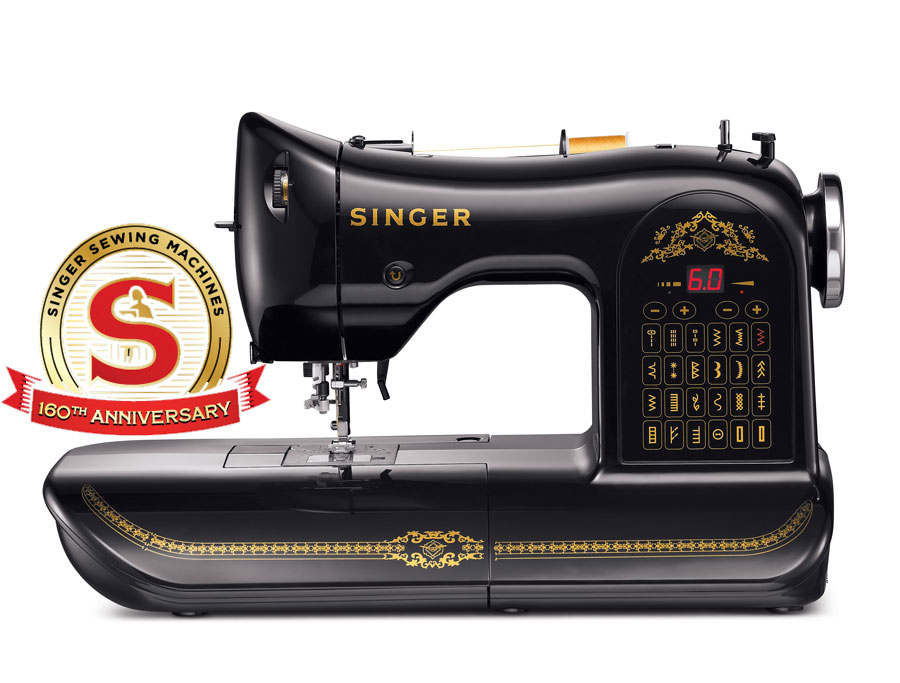 We'd been eying it longingly for a month or so since it came out when it finally went on sale. The price was equivalent to our online shopping when the shipping cost isn't an issue, and we could take it home that very same day.
This was our
Treat Yo Self
moment, as you can tell we're big fans of Parks and Recreation, and we weren't about to let it slip away. We bought the machine, and after an unbearably long "instructional" session with the representative at the store, we brought it home.
This machine is a thing of beauty, both literally and figuratively, starting with the sleek black design with gold trim, reminiscent of the original singer machines. It has a large sewing area with a lot of room to move fabric around, which is invaluable when we're working on our suit aprons.
If it's physical beauty weren't enough of a selling point, this machine sews like a dream. It's incredibly smooth and rarely steps out of line. While it's not a super robotic embroidering machine, it had a wide selection of stitches that more than meet our needs. All of which can be easily switched to, or adjusted with the touch screen panel.
We've actually had it for a while now, but honestly we've been to busy playing with it to stop and take photos for the post. We even got a special attachment used for ruffling and pleating. My personal favorite function is one of the decorative stitches which makes a little vine pattern with leaves. It adds a cute and fun touch, and is no more difficult that sewing a straight line.
When it comes down to it, we're not only treating ourselves, we're treating all of our customers. When you have good tools that make your work easier, and more enjoyable, the quality improves as well. We've been able to create high quality pieces that we are more than proud of as we head into the uncharted waters of internet small business.